Launch Invitation-New Community Solar Power Bulk-Buy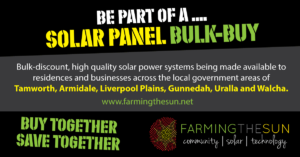 Farming the Sun is inviting residents and businesses to the launch of a new community bulk-buy of solar power systems. A range of high quality, Tier 1 solar power systems have been heavily discounted.
For more information please follow this link. Farming the Sun
RegenTV
RegenTV is AABR's growing online library of restoration videos from forums and field days, aligned to the National Restoration Standards. Along with the videos there are learning resources for students and life-long learners.
RegenTV allows for the sharing of current thinking, in a rapidly growing field, in a climate changing world.
RegenTV

Dieback Survey
Thank you to everyone who completed our native tree dieback survey. The online survey has closed, but if you still have a paper copy that you would like to submit then please drop it in or post it to the Tree Group. A summary of the survey results is being compiled and will be available on this site once complete.